Mio.
The brightest light casts the darkest shadowINFP-A.
---
Want access to my private streaming platform with Anime & Dramas? Check here.
My favorite tags
Tags i use the most to find new titles
Tiers
---
Genres
---
Specials
---
Puzzles
---
Timed
---
Classic
---
End of Year
---
Failed / Abandonned
Abandonned or failed challenges
because of lack of time or laziness
AniList profile Themes
You need the automail script for this
#01
Vaporwave
Not available to download
MyDramaList
---
Challenge badges & ressources i have made.
---
---
My favorite tags
Tags i use the most to find new titles
Better MDL Project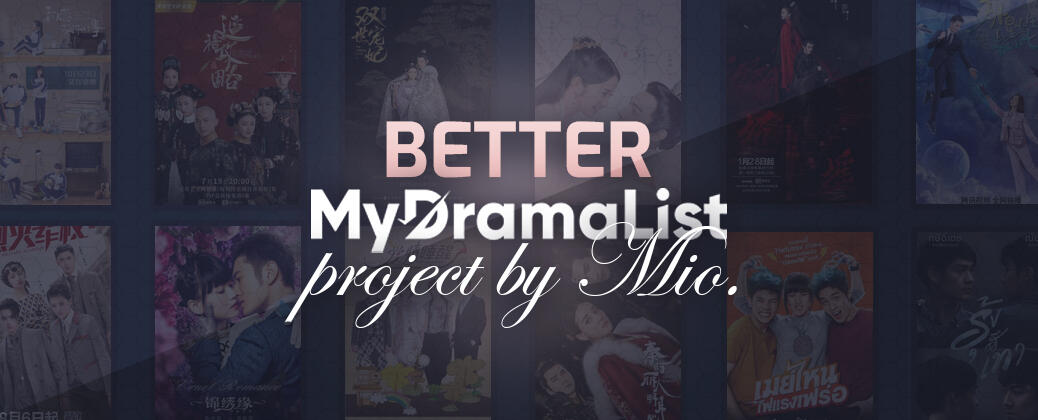 Better MDL is a project i'm working on to enhance the website. I've been using MDL since the very beginning and it hasn't improved that much over the years. So here I am, trying to make the website more friendly and modern!If you have suggestions, feel free to post them on this post, just keep in mind that I can't access the API as they don't give keys anymore.The themes I use in my previews are available @ MDL Themes
It's not included in this script!
Installation
Better MDL is currently a closed beta.
If you'd like to be a beta tester, simply post in my thread.
---
Steps
Your first need to install the Tampermonkey extension for your browser (or your preferred manager)

Click on the better-mdl.user.js link I sent you via DM and click "Install"

Go to MyDramaList settings page to customize the script, just like you would to edit your profile (You need to scroll down to the end of the page to see the Better MDL Settings section)

Try it out and let me know what you think!
How to use / Customize
For other website icons not in the settings, the first time you go on a title page, you will get asked if you want to allow a website on a screen like this. Simply allow or forbid the websites you want.

The first time you're using the Thumbnail View on a page, it might take a little while to load all the posters, especially if there's a lot of titles or if you have slow internet, just be patient.

It might take a little while to show all your Friend ratings, especially if you have many friends or if you have slow internet, just be patient. Also to favorite/unfavorite a friend, just click the heart. It will reflect the change on refresh.

For the pie chart "Titles by Country", the colors are the ones you defined in your settings for the status Currently Watching, Planned etc. (might change later)
---
Known Bugs
[WON'T FIX] Some titles don't have the right result for external searches. Currently there's nothing I can do as MDL don't refer to those external ids anywhere and scraping can only be that accurate. But what you can do is reporting it to me and providing me the right urls for each website. I plan to make a mapping file at some point if you have many titles with this issue.
---
Includes everything in "Available"Last update: April 03, 2023
Features
Worked on
Everywhere
Profile
Personal Drama List
Title pages
People pages
Available
Everywhere
Back to Top button

Hide comments with defined terms

Option to hide share icons on drama & people
Profile
Titles by Country

Option to hide the default MDL stats on profile
Title pages
Links to IMDB/Trakt etc.

Ratings from IMDB/Rotten Tomatoes/Metacritic

Link to Anilist for Adaptations

Add a heart to your liked people

Friend ratings & ability to put your favs at the top (suggested by sailingmars)
People pages
3 Layout Views (Original, Thumbnails & Posters)

Status icons

Show the total for each status on your list

Sorting & Ordering options

Hide completed titles

Collapse the sections
Previews
To-do & Suggestions
| Suggestion | Doable? |
| --- | --- |
| Click on a status total to only show those titles | ✔️ |
| Add the top 3 genres on Poster View | ✔️ |
| Hide cancelled titles | ✔️ |
| Do all of this for personal dramalist as well | ❔ |
| Add emoji in comments | ❔ |
| Adapted from Video Game source | ❔ |
| More stats on stats page | ✔️ |
MyDramaList Themes
**Install Stylus **[Chrome | Firefox | Opera] first then download the theme you likeLast update: February 23, 2023
Updates are automatically made via Stylus
#01
Catppuccin
A theme using the soothing palette Catppuccin5 variations (1 Light Mode & 4 Dark Modes) & offers multiple options for the main color» Directly includes my Modernized Version as an option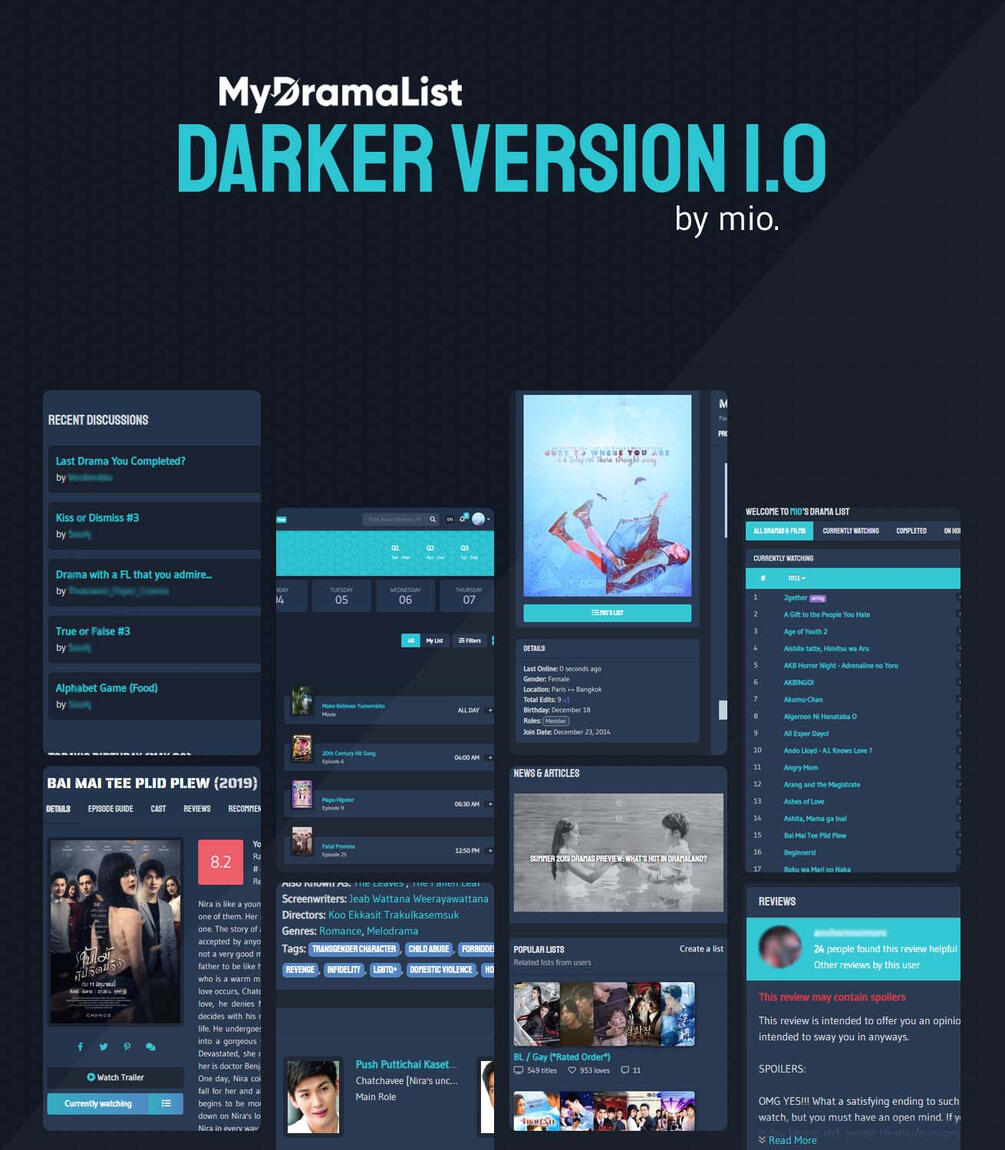 #02
Darker Version
I was sick of the default theme and wanted to make a dark version for the night.» Features
Darker theme
Larger container
Animations to dynamise the website
New fonts + custom hashtags view
Articles list: images same size + filters
Community Lists
You must be a VIP to install Community Lists
MyAnimeList
Not active there anymore.
(Just my card collections and what I used to make)
MyAnimeList Themes
#01 MIKU & LUKA
Alternative version of the square layout with hahaido's menu. Optimized for 1920x1080 screen resolution.
Plex
(private streaming platform)
---
I offer a way to watch your anime & dramas in the best possible quality with better translations and without ads. (Only Asian content)
---
What it looks like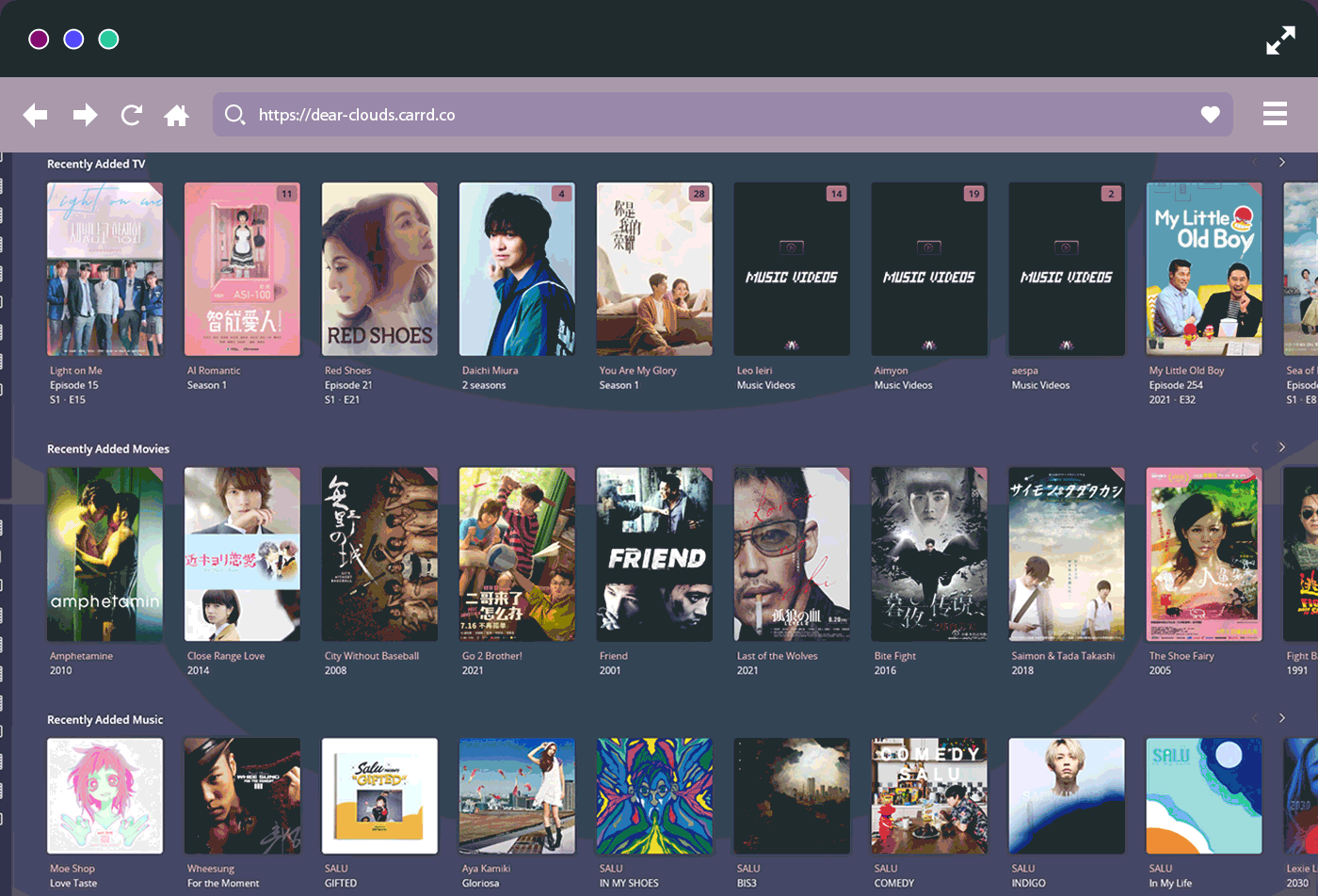 ---
For who?
People who dislike streaming websites and don't have time/energy to download everything themselves. It's also for people who want an easy way to watch their anime & dramas from anywhere: TV, PC, Phone, Tablet... Plex has an app on every device available out there.
---
Why?
I have always disliked websites like Kiss*, who steal subs and remove credits from the original subber then encode the stolen subs in a shitty quality on shitty streaming websites with shitty ads. I have always downloaded everything and supported as many translators as possible, on Patreon for instance. I thought it would be useful to create a server since i already do the work anyway, why not share it? It's not a perfect solution for the subbers but I personally think it's a better alternative than streaming websites.
---
Is it free?
Yes. I used to be the one paying for everything: servers, stockage, usenet, donations to translators etc. But donations are helping me a lot now so they are always welcome! The only thing i ask if you don't want to or can't make a donation is to come on Discord from time to time. That's why i made the rules "Be a minimum active in the community if you decide to stay a Free User". It shouldn't be difficult. If it is, well, my server is probably not for you.
It's also important to make this clear: I do not make profit, every donation is used to pay the server and its additional fees. You also help me support MORE translators/rippers/encoders, so the more I get, the more support I can give to them! It's easy to find proofs on my Patreon page etc. I'm myself a translator & ripper so I know how much time it takes. Maintaining my Plex takes a lot of time as well so I'm only making Spot translations @D-Addicts now.
Current cost: ~140-150$/month
---
tell me about the server
I can spend hours each day to maintain this server. It's not just about downloading stuff. I organize/rename/translate/manage everything so you can easily enjoy the content. There is new content every single day and seasonal shows are up-to-date. Requests are easy to make via the Discord. We also have a really nice Discord community!
---
How?
Since spots are limited to 100 users, my invitations are rarely open. I post from time to time in /r/plexshares BUT it's mainly invite only or if you're a MyDramaList or AniList user, you can send me a DM there and if i have a spot available, i'll send you a discord invite.You must be at least 20 years old
Translations
Some translations i've done. Now i'm almost only working as a Japanese Spot Translator. You can contact me on D-Addicts if you need one. All my past French translations are available @EBTEAM and @MadCatz. Once i'm done with 3 Nen A Gumi, i won't translate into French anymore. (except if asked)I can translate: 🇯🇵 > 🇫🇷 | 🇯🇵 > 🇺🇸 | 🇺🇸 <> 🇫🇷 | Maybe some 🇹🇭 > 🇺🇸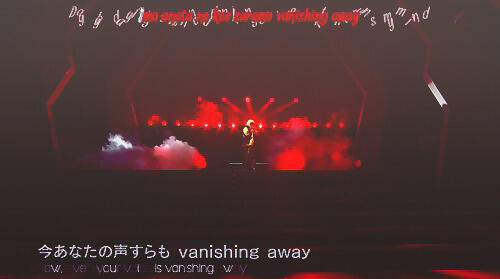 Kikuchi Fuma - FaKe (Shounen Club)
So here is it~ You have a karaoke with the translation but if you prefer having only the lyrics, go @sexy_zone :)Translation is awful, feel free to report anything to improve it :)
Ikumi - Watashi no 71% (Lyrics)
Translated this when working on Kuttsukiboshi. For some reasons the ending song didn't have an English translation available. As i'm not a native English speaker, you're free to point out my mistakes and improve that translation!
Spot translations
---
You can find me pretty much everywhere
---
Contact me